A few days ago, we were very proud to welcome our community of clients and partners to Paris for a special event. This gathering brought together 80 people from over 10 nationalities, representing various industries, all sharing a common goal: the pursuit of quality and efficiency in field operations. It was an opportunity to discuss the challenges faced by these companies, listen to their experiences, and engage in essential networking moments. Let's review the highlights of this event!
Swisscom: How AI enables to achieve 95% of First-Time Right customer connections
Swisscom, a Swiss infrastructure operator, aimed to connect over 95% of customers to the network on the first attempt (First Time Right). Amaury de Gromard, Head of NET Strategy & Business at Swisscom, explained how the operator revolutionized its quality control process. Previously requiring three manual steps with on-site audits, the quality control is now done in one go, directly in the field, using AI and computer vision. This significant change ensures instant quality measurement, avoiding errors or omissions. The feedback loop is shortened, enabling Swisscom to triple its deployment capacity accelerating network revenues. Additionally, each operation is verified to ensure compliance with quality standards, regardless of the subcontracting company employing the technician.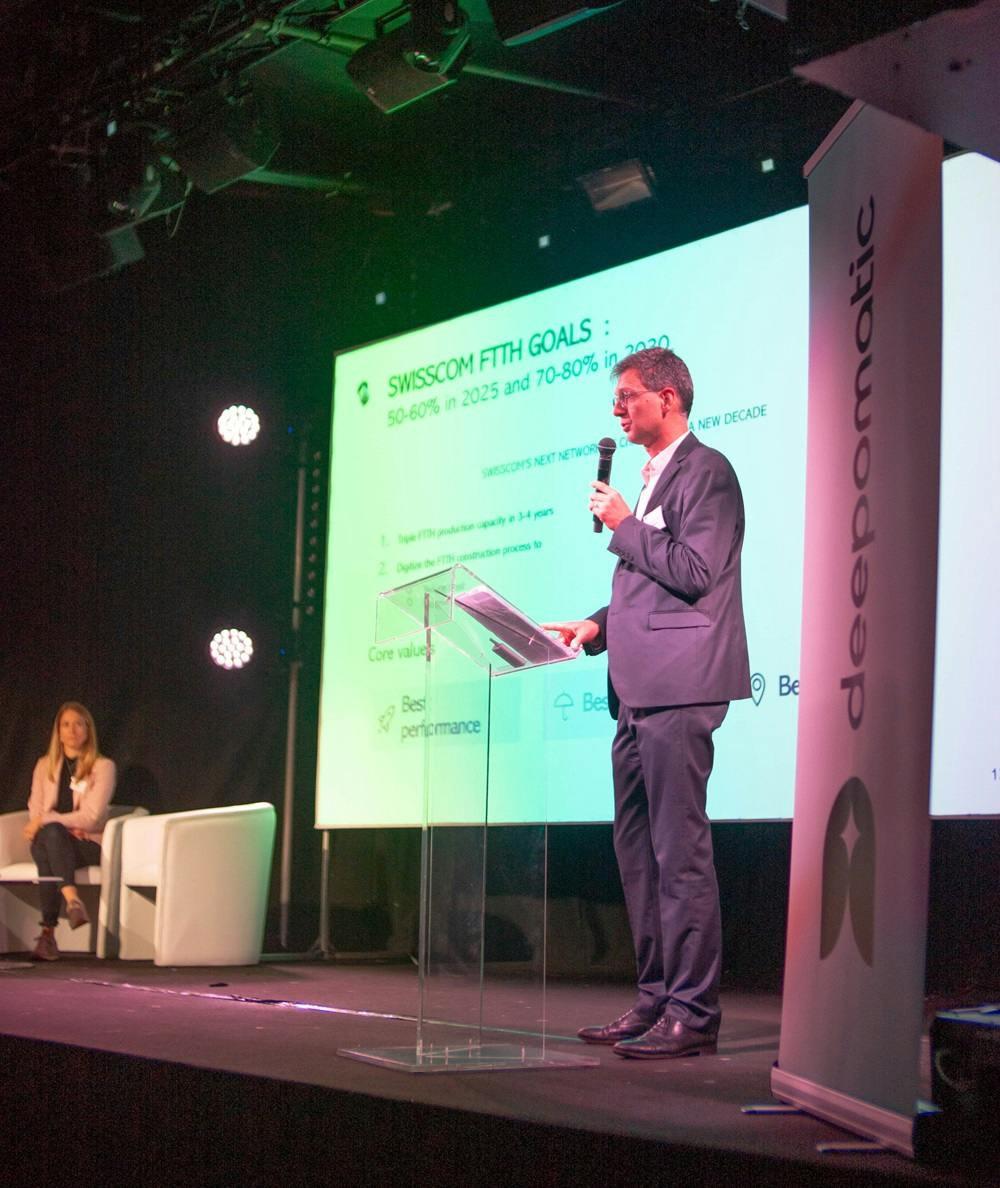 This ambitious project presented challenges for Swisscom, requiring functional integration with four subcontractors, each having its IT environment. It necessitated team alignment and change management for certain roles. Quality controllers, for instance, transitioned from frequent field mobility to more sedentary and focused roles on complex cases. Furthermore, a data-oriented approach was developed to leverage information from the field provided by AI, allowing adjustments to the quality control process.
Solutions30: AI as a deployment catalyst and guarantee of quality work
Solutions30, a major player in field services in Europe, partnered with many infrastructure operators in telecommunications and energy. Luc Brusselaers, CRO of Solutions30, discussed operational challenges faced by subcontractors. Meeting deadlines is crucial for organizations working in the field daily. While deployment speed is essential for timely revenue access, it cannot compromise quality, which, when lacking, results in additional costs for subcontractors. Solutions30 uses computer vision in its operations as a cost optimization tool.
Without AI, quality control costs would double. For example, Unit-T (a Solutions30 subsidiary in Belgium) works for an energy operator requiring high verification standards for each installation of smart gas meters in households to prevent safety issues. Without Deepomatic, this process would have required two technicians, but with the platform, AI-based verification ensures control, with manual review only in case of issues. By combining speed and reliability, Unit-T multiplied the volume of meter installations by five while maintaining the same back-office workforce.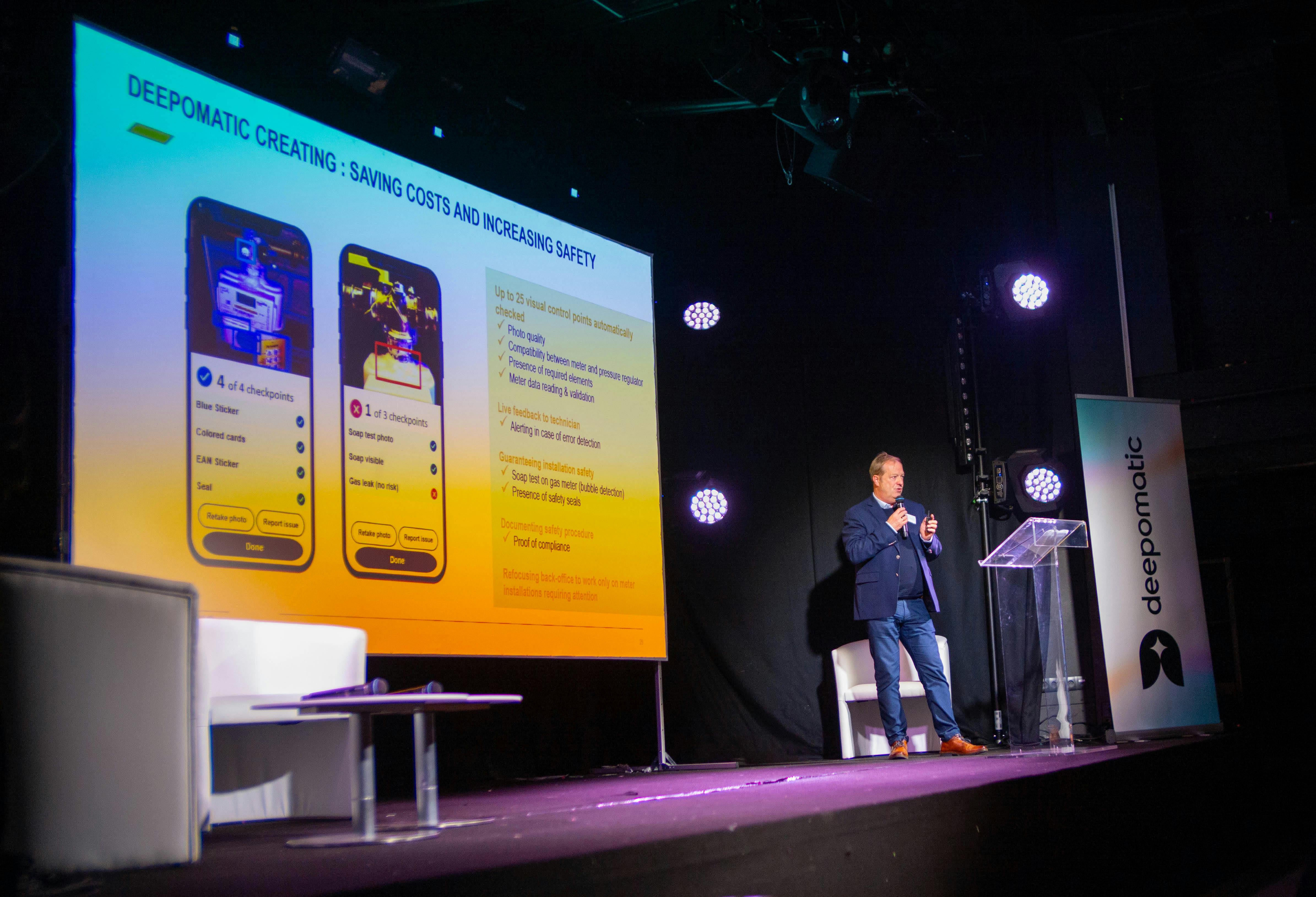 Recruiting and retaining field workers creates challenges for all companies. The average turnover rate for field workers is around 2 to 3% per month. Subcontractors constantly recruit and train new hires, making workforce turnover an additional challenge. AI is a valuable tool to support technicians in the field, especially for newly employed ones, aiding them in successful mission completion.
Additionally, Solutions30 emphasized the benefits of using field photo analysis to document field teams' work reliably. Whether it's 'As built' documentation for fiber optics or installation reports for telecom or energy equipment, photos and AI-validated checkpoints serve as necessary evidence for billing operator clients. Thanks to AI, Unit-T technicians spend 20% less time documenting installations.
Field data, integration, and adoption: three challenges of digital transformation for field service companies
Partners Praxedo, IQGeo, and Sightcall answered questions from Chief Product Officer Aloïs Brunel in a roundtable on the challenges of digitizing field operations.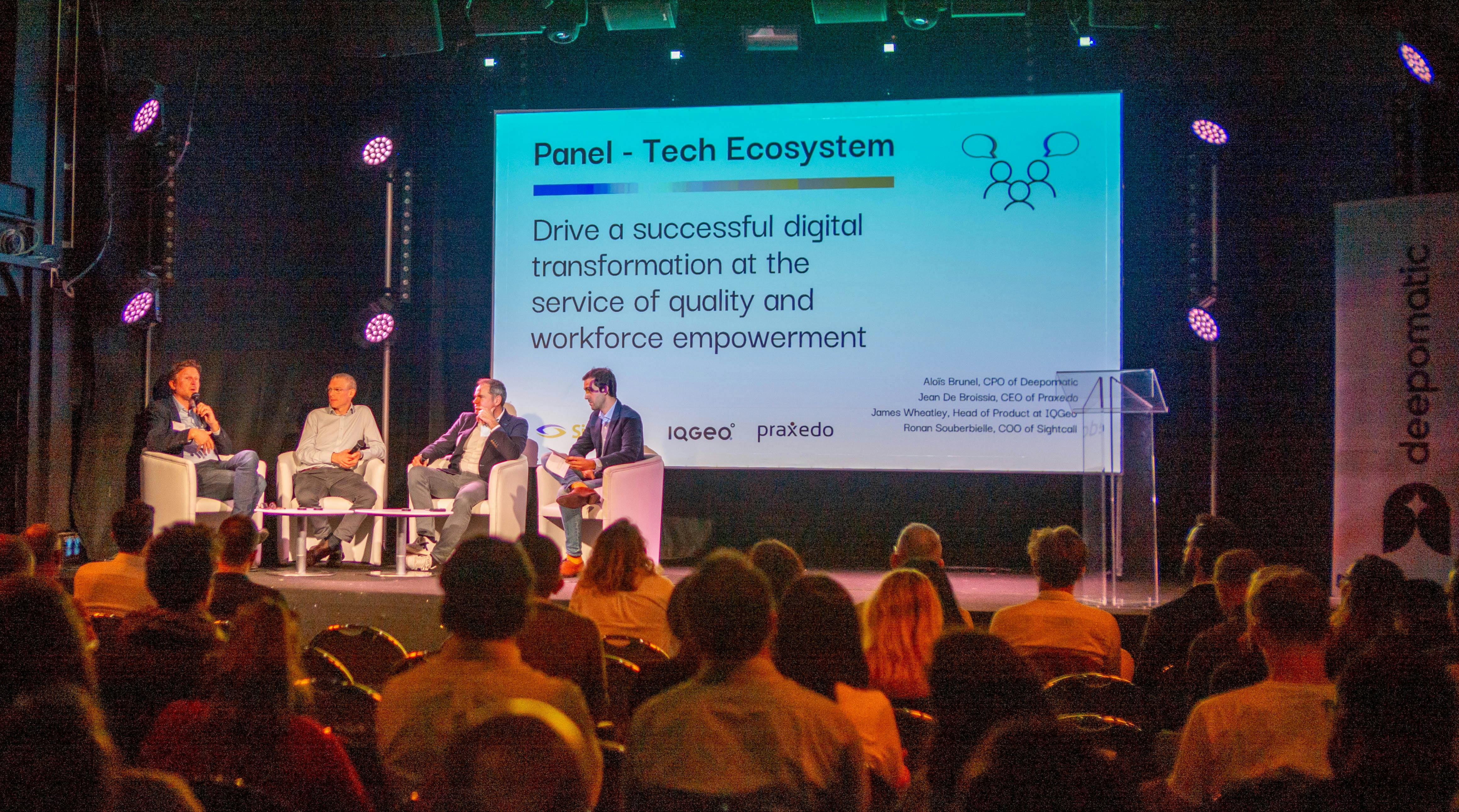 Companies understand the importance of better connectivity to their work environments and leveraging field data. However, this only makes sense if the data is reliable, verified upon entry, as unreliable data cannot be used in operations. Reliable data is crucial for companies to operate more proactively, especially in maintenance. SaaS software providers focus on verifying automatically collected data.
Several challenges have emerged in recent years, making the digitization of field operations more urgent:
The shortage of qualified labor forces companies to equip their teams with tools that make them more efficient and autonomous.
Cost-cutting efforts require reducing repeated travels and time-consuming manual processes.
In this context, the integration of solutions must be carefully considered since companies use various software to meet their needs. Interconnecting these solutions is vital to avoid creating and maintaining overly complex systems. Software providers offer an 'API first' approach, through open platforms and off-the-shelf connectors, to facilitate technology implementation without friction.
Avoiding friction is also crucial in the user journey of technicians in the field. Equipping teams with a primary application that automatically connects to other interfaces based on tasks, without the technician switching between applications, enhances user experience and ensures solution adoption.
Finally, any digital solution implementation must consider business impacts: What will this solution change for field personnel? For those in the back office? Success indicators must evolve accordingly. For example, implementing a Remote Visual Assistance solution makes 'First Call Resolution Time' the measure of successful field operations.
These testimonials brilliantly illustrated the undeniable advantage of artificial intelligence in the pursuit of operational excellence for field service companies. New models are emerging to amplify the benefits of AI, and Deepomatic is at the forefront of these innovations. Also, find a summary of Deepomatic's presentation on the emergence of multimodal computer vision models for quality control automation during our Home Run event.