Bouygues Telecom & Deepomatic : Automating Fiber Connection Quality Control
Launched in February 2013, France's ultra-high-speed broadband plan aims to reach full country coverage by 2025 and thus offer high-performance Internet access to all households and businesses. Private operators have committed several billion euros to deploy full-fiber networks in areas of high population density. With this ongoing colossal task, telecom operators enlist specialist contractors' help to deploy the network and connect to the end customers.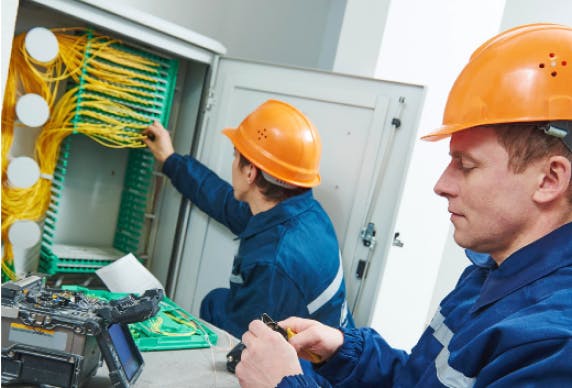 By the end of 2018, Bouygues Telecom had already deployed 7.2 million fiber network sockets. To make the actual subscriber connections, Bouygues uses the services of many contractors who perform several thousand work orders daily.
Before: reactive and manual quality control
With the cadence accelerating, it wasn't easy to ensure consistent quality.
✖️ It was often necessary to organize repeat visits to connect with a customer.
✖️ Furthermore, inspecting all work orders was impossible, and only 5% to 10% of installations were audited.
✖️ Likewise, the surge in demand has been piling pressure on technicians who, due to lack of time to manage the most difficult situations, often failed to follow procedure.
As a result, the network integrity was deteriorating due to non-compliant installations. Facing fierce competition, Bouygues Telecom wanted to differentiate itself by offering a superior quality of service and quality of experience.
After: Real-time quality control
Technicians are now empowered with an AI solution to succeed in their job
✔️ Using a standard smartphone, technicians in the field take pictures of the installation where the physical connection is made between the subscriber and the access network.
✔️ Deepomatic uses image recognition neural networks to analyze the images in real-time and report anomalies such as unconnected fibers, wrong color coding, or non-compliant cable paths.
✔️ With analysis and recommended actions available instantly, technicians can fix defects immediately instead of planning to rework them later.
In case of doubt, the application raises an alert so a technician can make the final decision. This makes concentrating their skills only on the most complex issues possible.
75%
of defects are detected
55,000
work orders analyzed per month
A solution that adapts to the ongoing rollout
Deepomatic successfully identifies over 75% of defects and is improving over time. As the rollout progresses and the nature of equipment, processes, and defects it encounters changes, Deepomatic's algorithms adapt. The project is currently centered on the work performed on street cabinets and equipment at the edge of the access network. It is being used for over 55,000 work orders per month. However, plans are underway to extend its application area to other work orders.
Benefits
#1
Comprehensive monitoring of FTTx fiber optic installations
#2
Ability to concentrate operational efforts on high value-added tasks
#3
Computer vision algorithms adapt to evolving quality requirements
"Our priority is the quality of customer experience. With Deepomatic, we can achieve this, even when performing thousands of work orders every day. It enables our personnel in the field to focus on adding higher value."
Carmine Muscariello
VP Customer Experience, Operations & Quality
Bouygues Telecom

Experience Quality First Hand